Tentacles The SF Reviews newsletter, 22nd April 2012
To new subscribers (repeated from the previous newsletter, March 2011)
Yes, this is meant to be monthly. Frankly though I'm just not up to it. Think of it as occasional newsletter with monthly aspirations.

To old subscribers
Well you knew that already. Still the pistons are thumping and we're picking up speed once more.

"Consider the daffodil. And while you're doing that, I'll be over here, going through your stuff."
- Jack Handey
Science note 1 - MS damage washed away by stream of young blood
Potentially great news in the New Scientist for MS sufferers – see MS damage washed away by stream of young blood but – maybe more in the future – potentially great news for the rest of us. Even though it doesn't have to be your own blood, I want to say here and now – to put a stake in the ground as it were – that this does not justify Vampirism. I quite fancy having some young blood washed through my veins, clearing up the debris and triggering the regeneration of whatever they touch. If however, boffins could for example take a couple of my stem cells and breed up a big barrel of blood then I'd be happy to flush with that. Even better though if they find out why young blood fixes things better than older blood.
I was a Boy Scout and there's no harm in being prepared so I think it's time to watch a few vampire movies. I'll start with The Lost Boys.
"We tend to scoff at the beliefs of the ancients. But we can't scoff at them personally, to their faces, and this is what annoys me."
-Jack Handey
Goodbye murky green
The massive Max organization has channelled its resources to revamping the glorious SF Reviews site. You're looking at it now. Stunning, isn't it.
In particular, it's no longer murky green. It's white. [Yes, Jane your wish is my command. It took ten years. No, I'm not that slow on CSS, I was simply distracted. Anyway it required substantial testing. Furthermore this is nothing more than a blip on the normal SF Reviews glacial timescale.]
Remember how it used to look?
So Twentieth.
The other brilliant new feature is that the newsletters are now searchable, not just the reviews. Wow.
Thanks by the way to the Python programming language. Forget Java, ignore C#, say "Pah" to Perl and throw VBA out of the window. C and C++? I'd rather use COBOL than those old crusties. Actually I'd rather use Algol 68, but that's another matter entirely. Python has so much capability and elegance that it really needs to be recognized as top notch. I've been using python since version 1.5.2 and it rocks – in programming parlance this is a good thing. In bridges of course, it's generally not.
I bet one legend that keeps recurring throughout history, in every culture, is the story of Popeye." -Jack Handey
Best of the reviews
A mix of old and recent novels came up top this month.
"Analogue Men" is a favourite from my teenage years. It's a haunting, Orwellian novel. MacLeod's "The Execution Channel" brings us slap bang up to date in reminding ourselves that governments do not evolve into benevolence.
Polity Agent takes a long term approach and seems to believe there is some hope for the common man, once you let AIs run the government and get the politicians out of it.
"Secret Realms" by Tom Cool accepts that governments are immoral and corrupt and only hope that people as individuals can be better. Ken MacLeod's "Engine City" cuts right to the core of the problem with Volkov aiming to ferment a revolution. Hold on this is an SF website, not a political soap box. Let's get back on track.
"To me, clowns aren't funny. In fact, they're kind of scary. I've wondered where this started and I think it goes back to the time I went to the circus, and a clown killed my dad." -Jack Handey
Science note 2 - ESA space ship into orbit
Another European launch vehicle – the ESA's Vega did excellently on its first flight ESA's new Vega launcher scores success on maiden flight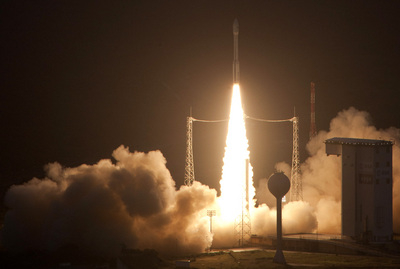 But hold on, what's this? Britain has a Space Agency? And it's working on a space plane? It's the Hotol reborn as the Skylon.
Check out UK Skylon space plane passes key review. Astonishing! I really hope it pans out. If it does, I may stop feeling so depressed about the Concorde.
"Probably the earliest flyswatters were nothing more than some sort of striking surface attached to the end of a long stick."
-Jack Handey
Science note 3 – Top boffinry of 2011
The Independent highlights scientific progress in 2011 by listing ten top announcements from that year under the misleading title of Eureka Moments It covers topics such as the Hayabusa mission, preventing transmission of AIDS with antiviral drugs and clearing senescence by clearing senescent cells from mice.
The face of a child can say it all, especially the mouth part of the face."
-Jack Handey
Mount Fuji
As it happens, the Max family took a short vacation at the Fuji-Q Highland Resort Hotel in Yamanashi, close to Mount Fuji. Particularly enjoyable for two reasons. The first reason is that I hadn't realised how impressive Fuji is so seeing it up close was a delight. It's big.
Oddly a lot people do paintings of Mount Fuji but most people paint it steeper than it really is. No idea why. But we shan't dwell on that. Except to say it's an impressive volcano, snow-covered and shining in the bright blue sky.
The second reason and the other enjoyable element of the holiday was spending time in the Fuji-Q theme park, famous for its fabulously terrifying rollercoasters.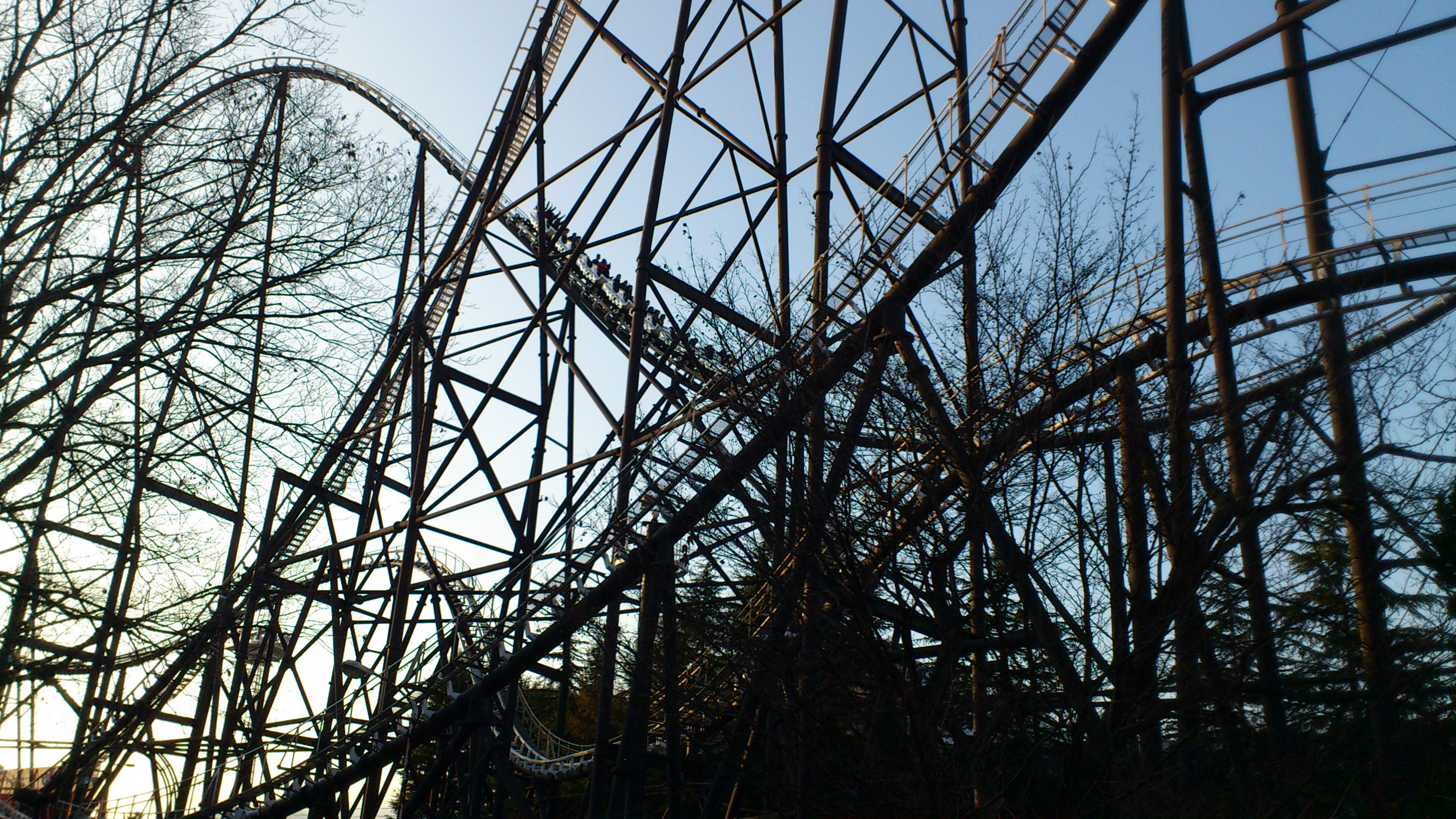 Wen shooting the above image I was frankly too terrified to lean back to show the full height to which the coasters soar.
The Max family were content to stay on a very modest rollercoaster. We weren't able to go on any larger ones as I point blank refused to be more that 25 meters above the ground unless it was in a tall building or an airplane, and any way as a point of principle not to be than 100 meters from the hotel bar. And that is in terrestrial travel, not "as the crow flies".
They had a little Richter 3 earthquake while the Max family was there. No one was hurt of course. The rollercoasters were shut for maintenance checks but after about 20 minutes fans of rollercoasting were again rocketing around the swoops, loops and plummits of the fabulous roller coasters in that park. I'm relieved we were not on a 'coaster when that quake happened. Check Wikipedia for details on the coasters at Fuji-Q
What a wonderful world when you have such gigantic and graceful structures dedicated to pleasure alone and a Wikipedia in which to read all about them and everything else.
"If trees could scream, would we be so cavalier about cutting them down? We might, if they screamed all the time, for no good reason."
-Jack Handey
Science note 4 – The world's lightest metal
California's HRL Laboratories has developed what it claims is the the worlds lightest metal, a nickel structure that is a hundred times lighter than Styrofoam.
In order to understand mankind, we must look at the word itself, "mank" and "ind".What do these words mean? Maybe we'll never know."
- Jack Handey
Worst of the reviews
The worst novels this month were mediocre not awful. "Xeno" has simply put me off insects. Particularly hornets. Unfortunately we have hornets in Japan so I expect to remain indoors for the rest of the year. At least I'll be able to get some reviews done. I'll admit "Tramontane" had a sort of Norse melodrama that did hold my interest for a while, You can do without reading either book. Obviously you can do without reading my reviews of those books. So hold yourself in check and just move straight onto the next section.
"Before you criticize someone, you should walk a mile in their shoes. That way, when you criticize them, you're a mile away and you have their shoes."
- Jack Handey
Spaceflight
On Monday 17th Oct, Richard Branson – Virgin Galactic opens first commercial space port in New Mexico called Space Port America.
We've got a Spaceport 1, but our space transport is aged. We are still using Soyuz. I was taken by this comment from the Russian crew blasts off for space station article: "The crew said they trusted the Soyuz, a workhorse of the Soviet and then Russian space programme for more than 40 years".
40 years? Come on, commercial space plane companies, get us up there!
(and as it happens SpaceX is heading into space the 30th April to resupply the space station). [Heck, just caught an update – that resupply mission is delayed maybe for a few months]
"Eventually, I believe, everything evens out. Long ago, an asteroid hit our planet and killed our dinosaurs. But, in the future, maybe we'll go to another planet and kill their dinosaurs."
- Jack Handey
The reviews
"If you define cowardice as running away at the first sign of danger, screaming and tripping and begging for mercy, then yes, Mr. Brave man, I guess I'm a coward."
-Jack Handey
Historical note – 60th Anniversary of the Leo computer
As a long-ago frequenter of the Joe Lyons Corner House in Wimbledon, the 60th Anniversary of Leo, the world's first commercial computer has an added nostaglia.
And here's a brief – and surprisingly interesting history of J Lyons & Company.
"Dad always thought laughter was the best medicine, which I guess is why several of us died of tuberculosis."
-Jack Handey
The "S" Issue
As you may recall, the SF Reviews book archives are stored in highly-secured, geographically dispersed locations. Highly secure and geographically dispersed is not always a plus. For several years I've been unable to access Wing 1 and to be frank, it's acquiring an almost mythical status. However, I've finally puzzled out that the reason I can find almost no books by Simak and Saberhagan is that they are not in the regular Wings. They are in Wing 1. I will be mounting an expedition in May 2012 to retrieve them. Wish me luck.
"I think someone should have had the decency to tell me the luncheon was free. To make someone run out with potato salad in his hand, pretending he's throwing up, is not what I call hospitality."
-Jack Handey
Next month's reviews
There's no chance that the next reviews will be out in a month, so just sit back and stop reading the reviews - get the books and read them instead.
You probably noticed a shortage of new novels. I'd like to say that's because nothing good has been published, but in truth I've bought almost nothing for two years. Except "Windup Girl" – I got that a couple of months ago. And I've just finished "The Recollection" by Gareth Powell. What a tremendous first novel. I'm just polishing off "Passion Play", an odd little alternate reality murder mystery by Sean Stewart. I'll follow that with the "The Disappeared" by Kristine Kathryn Rusch (thanks, Cyndie for that recommendation) and then what I hope will be pretty excellent, "Hull Zero Three" by David Brin. You may have gathered that I've sort of given up on abstaining. I fully expect to have all of these reviewed by 2023.
That's all for now. As always, tell me what you think about the books, the reviews and the site. Do let me know if there are books you think I should review.
"Sometimes when I'm driving behind a big cement truck, I think of how the valve on the truck could suddenly open, spilling cement over my car, encasing me inside and leaving me to slowly fall into an oxygen-deprived coma, from which I awaken five years later to find my wife remarried to my best friend. But then I think maybe I'm just being paranoid, because what are the odds of *that* happening again?"
-Jack Handey
And thanks to Jack Handey for his excellent sense of humour
Take care
Max